In The USA Today:
The #1 problem is we don't eat in response to our bodies signals of hunger or fullness and we label foods as "good" or "bad". Are heads are disconnected from our bodies. We tend to impose rigid, external guidelines on ourselves rather than tuning inside of ourselves for signals of hunger or fullness.
The #2 challenge is that we are too busy to take the time to invest in our ongoing well-being by preparing quick and delicious meals and snacks, and we feel that we don't have time to lead an active lifestyle. In the Essential Skills section of this web site I share tools, tips, resources, and strategies to transform our present lifestyle imbalances. It is essential that we get to the root causes and not just look for a quick fix. Explore the Dieting Vs. Non-Dieting and the Cultivating Balance in Your Life sections.
The #3 imbalance is we take in too many calories and have a low level of physical activity.
The #4 difficulty is that we take in too many unhealthy fats and processed carbohydrates.
A foundation food plan needs to consider:
Start a pattern that you continue for life! You learn how to set up your environment to support your ongoing success.

Providing flexible guidelines that you apply as you learn to honor your hunger. You learn the skill of "going inside yourself" regarding your hunger and fullness, so you can eat with moderation and proportionality. The "guidelines" are just suggestions.

Help you lower calories to achieve a healthier weight, while it helps you monitor portion sizes.

Be really satisfying, enjoyable, and nutritionally sound.

Be practical and flexible. Help you start from "where you are at" and make small, gradual changes towards a more varied style of eating. See Plan a Better Menu and a Healthier Way of Eating: Where & How to Start.

Simple in concept.
As you review these ideas, set your intension to use this information flexibly...
and respectfully to help guide
yourself to a healthier way of eating and living. Visit the Dieting VS Non-Dieting approach for
transformative reasons and attitudes for making any changes.
Explore Various Pyramids and Eating Plans Below:
The Healing Foods Pyramid from the University of Michigan Integrative Medicine: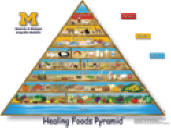 The Healing Foods Pyramid from the University of Michigan Integrative Medicine: http://www.med.umich.edu/umim/food-pyramid/ and to print off as a color PDF file: http://www.med.umich.edu/umim/images/pyramid%20v17b1.pdf

Explore terrific guideline suggestions to apply the pyramid in your life: http://www.med.umich.edu/umim/food-pyramid/ There is also a wonderful discussion of the value of nurturing ourselves with these wholesome food choices.
Panoply of Pyramids — Something for Everyone By Lauren Swann, MS, RD, LDN African Americans, Latinos, and older adults—many subpopulations are benefiting from adaptations of the food pyramid that meet specific dietary needs. Today's Dietitian Panoply of PyramidsToday's Dietitian.pdf

Choose http://www.choosemyplate.gov/ Newest eating guidelines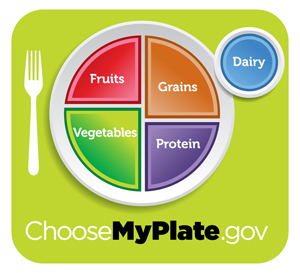 Balancing Calories
●
Enjoy your food, but eat less.
●
Avoid oversized portions.
Foods to Increase
●
Make half your plate fruits and vegetables.
●
Make at least half your grains whole grains.
●
Switch to fat-free or low-fat (1%) milk.
Foods to Reduce
●
Compare sodium in foods like soup, bread, and frozen meals ― and choose the foods with lower numbers.
●
Drink water instead of sugary drinks.
Tips and resources: http://www.choosemyplate.gov/healthy-eating-tips.html
Discover interactive tools on the site: http://www.choosemyplate.gov/supertracker-tools.html
Note: When you use the MY PYRAMID PLANNER on the above page, enter your age, sex, and choose a LOW level of physical activity to have the recommended calorie level be estimated at an appropriate (not too high) calorie level.
A personal example: I selected age 54, sex, male, physical activity: more than 60 minutes/day (which is my actual level of activity) and the program estimated that I needed 2800 calories/day. I would gain weight at that level. I then put my "physical activity" level to be "less than 30 minutes/day" and the program estimated my MAINTENANCE calorie needs to be 2200 calories, which is closer to my known 2300 calorie-maintenance level. It IS helpful to use the "My Pyramid Tracker" calculator that is listed below to have a personal evaluation of your present food and activity intake.
Explore Additional Pyramids and Resources
Eating Jumbo Portions----> Leads to Jumbo Bodies!
Be Aware of Portion sizes. Portions make a HUGE DIFFERENCE in the energy (calories) consumed.
This chart is used with permission of www.DIETPOWER.COM . Free trial download or CD. Works with any diet to GUARANTEE reaching your goal on target date. Tracks 33 nutrients, counts calories in exercise. "4 Stars!" - Shape. "The Ultimate" - Runner's World.
Download their excellent and easy-to-use software program (15 days for free trial) to act as your personal nutrition advisor.
Portion Estimator
Knowing how much you're eating is one of the most important elements of dieting. If you underestimate your portions by 10 percent, you'll gain 20 pounds a year.
You can learn to "eyeball" portions with remarkable accuracy, however. Just use a scale or a measuring cup until you begin noticing they're only confirming what you already know.
In the meantime, the rules of thumb below can help. By comparing what's on your plate with common household objects, they provide surprisingly good estimates of volume and weight. The red ones are especially easy to remember.
Rules of Thumb
Food Size

Volume

Weight (oz)

As big as a...

Household measure

Meat, cheese, veggies, drinks*

Cookies,
nuts, diced
or shredded foods*

Cake, bread, crackers,
chips*

Computer key

1/2 t

0.1

0.05

0.03

Thimble

1/2 t

0.1

0.05

0.03

Lipstick cap

1 t

0.2

0.1

0.05

Pair of 5/8" dice (both)

1/2 T

0.3

0.14

0.07

Woman's thumb

1 T

0.5

0.3

0.1

9-volt battery

2 T

0.5

0.3

0.1

Roll of 35 mm film

1 T

0.7

0.3

0.2

Man's thumb

2 T

0.8

0.4

0.2

Ping pong ball

2 T

1

0.5

0.2

Matchbox

1 fl oz

1

0.5

0.2

Golf ball

1/4 cup

2

1

0.5

Deck of cards

1/3 cup

3

1.5

0.8

Bar of soap

1/2 cup

4

2

1.0

Palm of woman's hand

1/2 cup

4

2

1.0

Hockey puck

1/2 cup

4

2

1.0

Custard cup

1/2 cup

4

2

1.0

Tape cassette holder

1/2 cup

4

2

1.0

Medium potato

1/2 cup

5

2.5

1.3

Tennis ball

5/8 cup

5

2.5

1.3

Palm of man's hand

3/4 cup

6

3

1.5

3/4 cup

6

3

1.5

Computer mouse

3/4 cup

6

3

1.5

Baseball

1 cup

8

4

2.0

200-page paperback

1 cup

8

4

2.0
*Meat, cheese, vegetables, and drinks are about the same density as water. Cookies, nuts, and diced or
shredded foods are about half as dense, because they're half air. Cake, bread, crackers, and chips are
only one-quarter as dense. (These are approximations, of course. As anyone knows, a slice of chocolate
cake is heavier than an equally big slice of angel-food cake. Use your judgment.

Also check out--Keep an Eye on Portion Size. What is the difference between Portions and Servings? Serving Size Card: Serving Size Card.pdf
Picture Perfect Weight Loss: The Visual Program for Permanent Weight Loss
Filled with practical advice for lasting weight loss. The AMAZING FEATURE about this book is that it has hundreds of comparisons (PICTURES) among foods showing portion sizes
and the calories that each contains. You will be surprised! He also shows many ways to experience guilt-free dining out. Published by Warner Books (paperback) in January, 2003.
He also has a SHOPPERS GUIDE for the supermarket to promote grocery store choices for
permanent weight loss.

Another key area is that of "energy density" and "food volume". As humans, we are used to a certain VOLUME OF FOOD to feel satisfied with our meals and snacks. To help us lose weight and keep it off, it is important to cut back in calories or "energy density" as we feel satisfied with our meals. The article below on "volumetrics" shares how to do that.
Taken from: FOOD REFLECTIONS Newsletter, University of Nebraska Cooperative Extension in Lancaster County http://lancaster.unl.edu/food/food-reflections.shtml
The Ultimate Volumetrics Weight Control Plan book (2012): On Facebook https://www.facebook.com/VolumetricsDiet
University of Nebraska Cooperative Extension in Lancaster County

| | |
| --- | --- |
| Helping Every Time You Eat | January 2001 |
Feel Full On Fewer Calories:
An Interview With Dr. Barbara Rolls About Volumetrics
Volumetrics is an approach to eating that helps satisfy hunger with fewer calories.
The term Volumetrics is used by Barbara Rolls, Ph.D., Guthrie Chair of Nutrition at Penn State and former president of the North American Association for the Study of Obesity, and award-winning journalist Robert A. Barnett in their book, Volumetrics: Feel Full on Fewer Calories. (NOTE: The paperback edition is titled The Volumetrics Weight-Control Plan: Feel Full on Fewer Calories.)
Can the Volumetrics way of eating help you? Here's an interview with Dr. Rolls to help you learn more about Volumetrics so you can decide for yourself. There also are two Volumetric-type recipes for you to enjoy.
First, though, a few comments -- based on the interview with Dr. Rolls -- about what Volumetrics IS NOT.
What Volumetrics Is Not
Sometimes it's easier to understand a new concept such as Volumetrics by first learning what it IS NOT. Here's an overview of Dr. Rolls' points on what Volumetrics IS NOT:
Volumetrics IS NOT a stuff-your-stomach-with-celery-and-water eating plan. The Volumetrics approach enhances sound nutrition and, according to Dr. Rolls, is consistent with and supports the dietary recommendations of the:
"Volumetrics IS NOT a gimmick for rapid weight loss," says Dr. Rolls. Nor is it just for people trying to lose weight. If a person is at an unhealthy weight, eating the Volumetrics way can help with weight loss, she said. If a person is at a healthy weight, Volumetrics can help maintain that weight.
An Interview With Dr. Rolls
NOTE: The following is provided as information for general healthy eating. It should not be considered a substitute for seeking dietary advice from your own health care provider.
Food Reflections: What is Volumetrics and how does it help control weight?
Dr. Rolls: Volumetrics is a weight management plan based on research related to satiety. It's about how different foods affect hunger and how full you feel.
Volumetrics gets you thinking about the volume or portion size of foods you need to eat to feel satisfied. Many people feel they have to eat little tiny portions to lose weight or to maintain their weight at an acceptable level. But, when they do that, they feel hungry.
A core concept of the book is the amount of calories in a given weight of food (calories per gram) or the "energy density." When left to their own devices, people choose a fairly constant portion of foods from day to day. Volumetrics is based on maintaining the usual amount of food you eat yet lowering the calories in each portion so you can consume fewer calories yet feel just as full.
Fat raises the energy density of foods but water is also important because it adds weight and volume but no calories. That's why fruits and vegetables, which are high in water, are the main players. Volumetrics really leads you to the foods you should be eating anyway and explains how they can help control our caloric intake. Soup can also play an important role in helping with satiety -- we include a whole chapter on soup in the book.
NOTE: Here's an example from Dr. Rolls' book of how you can use the energy density of foods to help you feel full on fewer calories. Suppose you wanted a filling snack and had the choice of a tomato or pretzels. You could eat an entire medium tomato for 25 calories. For the same 25 calories, you could eat only 4 or 5 tiny pretzel sticks. That doesn't mean you should never eat pretzels, just that they're easy to overeat.
The volume is important as well as the energy density. In general, portions that weigh more are bigger in volume. We experimented with strawberry smoothies in our lab and added different amounts of air, simply affecting the volume and not the weight or energy density. We found that the bigger the smoothie that people drank a half-hour before lunch, the less they ate at lunch. They also didn't make up for the calories later in the day. My student, Dr. Elizabeth Bell, reported a study recently at the annual meeting of the North American Association for the Study of Obesity that indicates that foods that look bigger in volume and with irregular shapes that fill the bowl more also can affect satiety.
Water, though, is a bigger player than air. There are a lot more ways you can add water or water-rich fruits and vegetables to foods than there are things you can do with air.
NOTE: Dr. Rolls doesn't recommend you fill up on lots of airy foods. This could lead to a stomachache and you'd probably burp a lot!
Food Reflections: You mentioned several nutritional factors in your book that affect the energy density of foods and how well the foods will satisfy hunger. Fat, fiber and water were cited as having some of the greatest influence. Would you comment briefly on these? Can a person just drink large amounts of water to satisfy hunger?
Dr. Rolls: A number of labs are plotting out the influence of different elements of foods on energy density. Water has the most influence, then fat. But, fat's influence isn't as great as that of water. A gram of fiber and a gram of water can have the same influence, but there's a limit to how much fiber you can add or you'll get a pretty big gastrointestinal disturbance. The upper range for fiber is somewhere around 30 grams though some people might be able to go higher. You can add 500 grams of water easily and that's going to have a much bigger impact. When you do add fiber, it's best to get it from food.
I've heard anecdotal stories about how drinking water could influence satiety. However, I haven't found any systematic data in the scientific literature that shows that drinking lots of water controls hunger or has any impact on weight loss. In our studies, drinking water didn't have an impact, but incorporating the water into the food (i.e. eating water-rich foods like soup, pasta with vegetables, etc.) did have an impact on satiety and food intake.
One challenge when talking about liquids is: When is a liquid considered a food and when is it considered a drink? Various liquids are processed by different mechanisms in the body. The hunger and thirst mechanisms are quite separate. A soft drink will trigger thirst mechanisms, not hunger mechanisms, and add calories without satisfying hunger. You may end up consuming more total calories than if you didn't take the drink.
Milk-based drinks and drinks with some protein will influence hunger mechanisms. In our lab, we found that milk-based drinks help people feel full and eat less at the next meal.
I think a lot of people take in way too many calories from sugar-sweetened beverages. I tell people that if they're trying to lose weight, in some degree they're lucky if they're getting a lot of calories from soft drinks because it's an easy habit to change. There are a lot of good substitutes for caloric soft drinks. It's a pretty easy way to reduce your calorie intake.
It's much better in terms of satiety to eat whole fruit, which has more fiber and offers more satisfaction in chewing, than fruit juice. There have been studies done that show you will feel more satiated with whole fruit than juice.
If you're thirsty, water is the best choice for quenching thirst, followed by calorie-free or low-calorie beverages.
Food Reflections: In your book, you state that the Volumetrics approach is consistent with the Food Guide Pyramid. What are some food choices from each Pyramid food group that would make meals more Volumetric and help a person concerned with weight management? What about beverages and soups? (NOTE: Readers will learn in the answer to a later question how you don't have to AVOID any foods in a Volumetrics-based eating plan.)
Dr. Rolls: Some types of foods that would make meals more Volumetric include:
Bread, Cereal, Rice and Pasta. You would choose foods that have more fiber, complex carbohydrates and water. You would want less of the dry crackers, pretzels and so on; they're very easy to overeat. Go for such foods such as high fiber breakfast cereals, higher fiber content breads. These are the most nutritious choices, anyway. Go for your brown rice rather than white rice.

Anytime you can choose a food that has a higher fiber content and a higher water content, that's the better choice.
NOTE: Dr. Rolls includes charts in the book for each of the food groups. For example, you could eat ONE CUP of bran flakes for 98 calories. To keep calories to a similar level, you would be limited to ONE-FOURTH cup of regular granola for 110 calories.
Fruits and Vegetables. Almost all foods from this group can be eaten in unlimited quantities. Go for the hydrated ones rather than dry ones so you get more satiety, grapes rather than raisins. Make good varied choices. Find ones you really enjoy so you find an eating pattern you stick to because you like the foods you're choosing.

We suggest people try new fruits and vegetables. Try cooking them different ways so you can maintain your interest. Most people are not eating enough from these two groups. Many people are getting a big hunk of their vegetable group from French fries. Cut back on eating fried vegetables and save the fat for healthy nuts or a piece of chocolate rather than drenching your veggies in fat.
NOTE: Dr. Rolls' book gives several tips for including more fruits and vegetables in your meals. Also, you'll learn that all fruits and vegetables are OK to eat -- you just need to be aware of overeating some, such as dried fruits, which have less volume than their hydrated counterparts. Or, fried vegetables which pack more calories into the same volume as those prepared without fat.
Milk, Yogurt and Cheese. Go for the lower fat versions. For example, if you choose skim milk over whole milk, you get a portion that's twice as big for the calories. Or, if you had the same portion, you'd take in half the calories. Also, you get less saturated fat so it's not a bad thing to go for the lower fat versions as that's not a healthy kind of fat.

Meat, Poultry, Fish, Legumes, Eggs and Nuts. Choose lower fat forms. For example, include leaner meats, poultry without skin and baked fish. Small portions of nuts give good healthy fats.
NOTE: Several suggestions are given in the book for choosing lower energy density versions of dairy group and meat/protein group foods.
Soup. We've done a lot of studies with soup. Soup gives a lot of satiety. Obviously if you had a really high-fat soup, you could end up taking in too many calories. So you want to go for your broth-based (such as vegetable with beef broth soup or chicken, rice and vegetable soup) and tomato-based soups. For example, if you wanted a clam chowder, you would go for the Manhattan rather than the New England because it's going to be tomato-based rather than cream-based.

If you're going to have soup as a first course, go for a satisfying portion with 100 calories or less. Again, you could end up overeating if you have a whole lot of calories at an additional first course. Again, if you're going to have soup as a snack, you'd probably want one with 100 calories or less. There are a lot of commercially available soups that have 100 calories or less in a portion. It's a pretty easy strategy as a nice convenient snack or first course that can help control hunger.

I think often for snacks, people only need 100 calories to help control hunger. Only they're reaching for a candy bar or a bag of chips that in a small amount may be giving them more calories than they need. And it's not in a very big portion so it's not very satisfying.

Condiments, Salad Dressings and Sauces. Find non-fat and low-fat ones you like. For example, when people are trying to decide on a salad dressing, some people will like fat-free dressings. Others will like reduced-fat versions. Others may really want their olive oil and vinegar and they can make that choice; they just need to take less of it. People have to decide their own pattern, but they need to be aware that if they go for the high-fat version, they get much less as a portion. Some fat is necessary in the diet to provide essential nutrients.
NOTE: The amount of fat recommended for a Volumetrics meal pattern is consistent with the Dietary Guidelines 2000 recommendation of a total fat intake of no more than 30 percent of calories.
Desserts: If you want to have dessert, ones that have some fruit in them to help dilute calories are a good choice. Having a piece of chocolate at the end of a meal is really not a bad strategy. You're already pretty full and less likely to overeat and sit down and eat the whole box. I find myself that having the most delicious chocolate I can think of in a small amount at the end of the meal really helps me end the meal! It's a satisfying finish and I know I'm finished then. You need to keep the sensory pleasure in there, too.

Candies. If you need something sweet, have a hard candy. You can use candy in small doses to satisfy the desire for something sweet! You don't have to eat the whole bag, one hard candy might do it.
Food Reflections: Is it necessary to only eat low-energy-dense Volumetric foods at all meals in order to benefit?

Dr. Rolls: No, we did one study where we measured how much lean and overweight women normally ate. Then for four days in a row, they ate all their meals in our Eating Lab. They were REQUIRED to eat the entire portion of main dishes that provided half the calories they normally ate at that meal. Then, they could eat anything they wanted for their other foods and between meals.

We established the amount of food people normally ate and then in random order tested them all in all conditions so they got both high and low energy density foods after their baseline intake was determined. When we lowered the energy density of the required main dishes, they didn't eat any more of the "free" foods offered at and between meals. The women weren't consciously dieting; however, they spontaneously ate about 100 calories less a day and felt just as full and satisfied. Both overweight and lean women responded similarly to the reduction in energy density.

In another study, we served a chicken, rice and vegetable soup before lunch. The women reduced the calories they consumed from other foods at lunch.

I think this indicates you don't have to change your entire diet. You can start by changing some of the foods you're eating and you're going to feel fuller on those foods and you're going to eat less of the foods that are higher in energy density. Obviously, the more you can change, the more likely it is to work. Just changing a few foods, like choosing reduced-fat potato chips over full-fat potato chips, probably won't do enough.

The types of foods you need to eat aren't extreme and can be used for just weight maintenance as well as weight loss. Unless people are cutting calories dramatically, there's no reason for any risk in following a Volumetrics way of eating. It's compatible with the Dietary Guidelines. What they're doing is getting their calorie intake down to a more reasonable level.

Food Reflections: How can a person lower the energy density of higher energy dense foods and make them more suitable for a Volumetrics eating plan?

Dr. Rolls: Any time you can add vegetables to your favorite dish, you'll dilute down the energy density. Use your favorite vegetables. For example, if you can substitute your favorite veggies for some or all of the pepperoni on your pizza, you're really going to reduce the energy density quite dramatically.

NOTE: In the book, Dr. Rolls gives an example of two sandwiches that illustrate how to lower the energy density of a food.

The first sandwich was made with 2 slices of whole-wheat bread, 2 slices (2 ounces) beef bologna, 1 slice (1 ounce) mild cheddar cheese, 1 piece lettuce, and 1 tablespoon regular mayonnaise. It had 625 calories.

In the Volumetric sandwich, they cut the fat and then added water and fiber by increasing the vegetables. The second sandwich used reduced-fat mayo, reduced-fat cheddar cheese and lean roast beef. It weighed the same as the first sandwich and had only 438 calories.

Food Reflections: Are there any other tips you'd like to give readers who would like to try eating the Volumetrics way?

Dr. Rolls: We suggest that for a few days people keep track of what they're eating. I think people need to identify where the problem foods might be so they know which ones they can tweak to lower the energy density. For example, if someone finds they are getting an enormous amount of calories from the fat in salad dressing, they need to identify that early on so they know where they need to make some changes. I wouldn't recommend people keep track of calories for the rest of their lives. But I do think it can be useful because I think a lot of people are not aware that they may be taking 500 calories a day from soda for example. I think that is a good way to start.

Then, they need to play with it when they know how to reduce the calories and the portions. They need to experiment with their own eating pattern and that of their families so they find ways to still enjoy foods. In our lab, we reduce the energy density easily by 30 percent and people can't even tell the difference. It may take some playing with seasonings if people are actually cooking this way. I want them to find a pattern they enjoy and can stick with. I can't emphasize that enough. This isn't a gimmick for rapid weight loss. It's really a way to try and get people to eat healthy.

Roland Weinsier, at the University of Alabama in Birmingham, has used this kind of plan for 25 years in his program. He has published some studies on weight maintenance and has found excellent success in keeping weight off. The people actually change their eating patterns so they're eating more fruits and vegetables, eating more satisfying portions of foods and not overindulging in the high-fat foods. It just becomes their preferred way of eating. And that's what we want them to do. Because if you're going to maintain the weight loss, that's what you have to achieve. You have to just automatically eat this way.

Volumetrics Recipes

To help readers enjoy Volumetrics types of foods, the book includes several recipes developed by Debby Maugans Nakos of Southern Food Consultants in Birmingham, Alabama. Here are two of these recipes for your eating pleasure.

Corn Chowder
This makes a comforting first course, or, with the addition of chicken or salmon, the centerpiece of dinner.
3 cups canned low-fat or fat-free chicken broth
2 3/4 cups (16 ounces) lightly packed frozen hash brown potatoes, thawed
1 (10 ounce) package frozen whole kernel corn
1 cup chopped onion
1 cup chopped green pepper
1/2 cup finely chopped celery
1/2 teaspoon dried thyme
1 1/2 cups low-fat (1 percent) milk
2 tablespoons all-purpose flour
1/2 teaspoon salt
1/4 teaspoon ground red pepper
Combine the first seven ingredients in a large saucepan, and bring to a boil over medium-high heat. Cover, reduce heat, and simmer for 20 minutes.

Using a slotted spoon, transfer 2 1/2 cups of the vegetable mixture to a food processor or blender. Process until smooth. Add the milk, flour, salt, and red pepper; process until blended. Add to the remaining vegetables in saucepan. Cook over medium heat until the soup is thick and bubbly, stirring frequently.

Serve immediately, or store in covered containers in refrigerator for up to 3 days, or in the freezer for up to 1 month.

Yield: 8 servings of 1 cup each.

Nutritional Information Per Serving. Calories: 140. Energy Density: 0.6. Carbohydrate: 27 g. Fat: 1 g. Protein: 6 g. Fiber: 3 g. Sodium: 416 mg. Good Source: Vitamin C.

Main Dish Variation. For each serving, add 3 ounces (about 2/3 cup) chopped cooked chicken breast (or white meat) or flaked canned salmon. This will increase the serving size to 2 cups. With chicken. Calories: 275. With salmon. Calories: 260.

Reproduced with permission from Rolls, B. J. and Barnett, R. A. Volumetrics: Feel Full on Fewer Calories. HarperCollins Publishers, 2000.

Apple Crumble
A Volumetric apple brown Betty.
6 cups peeled, thinly sliced Granny Smith apples (about 4 large)
3/4 cup firmly packed light brown sugar, divided
2 tablespoons water
3 tablespoons thawed frozen apple juice concentrate, divided
2 teaspoons cornstarch
3/4 teaspoon ground cinnamon
2/3 cup regular oats, lightly toasted*
1/2 cup All Bran with Extra Fiber cereal
1/4 cup whole-wheat flour
1/4 cup all-purpose flour
1 teaspoon ground cinnamon
2 tablespoons canola oil.
Preheat the oven to 400 degrees F.

Combine the apples, 1/4 cup brown sugar, water, 1 tablespoon apple juice concentrate, cornstarch, and 3/4 teaspoon cinnamon in a large bowl, and toss well to coat the apples. Spoon the mixture into a shallow, 1 1/2 quart baking dish coated with cooking spray.

Combine the oats, flour, cinnamon, the remaining 1/2 cup brown sugar, the remaining 2 tablespoons apple juice concentrate, and the canola oil in a food processor, and pulse until it is just blended. Sprinkle over the apple mixture.

Cover with aluminum foil and bake for 25 minutes.

Uncover and bake for 15 minutes or until the fruit is tender and the topping is crisp. Serve warm or at room temperature.

* (To lightly toast oatmeal:) Preheat the oven to 400 degrees F, spread oatmeal on the baking pan, and bake for 5-8 minutes.

Yield: 6 servings of 3/4 cup each.

Nutritional Information Per Serving. Calories: 245. Energy Density: 1.8. Carbohydrate: 51 g. Fat: 6g. Protein: 3 g. Fiber: 7 g. Sodium: 36 mg. Good Source: Fiber.

Reproduced with permission from Rolls, B. J. and Barnett, R. A. Volumetrics: Feel Full on Fewer Calories. HarperCollins Publishers, 2000.
---
Based on Volumetrics, named the Most Effective Diet of 2011 by The Daily Beast, The Ultimate Volumetrics Diet by Dr. Barbara Rolls with Mindy Hermann offers smart, simple,
science-based strategies for losing weight and keeping it off. In this beautiful full-color combination diet plan and cookbook, the author of the #1 New York Times
bestseller Volumetrics provides new findings, user-friendly tools, and dozens of fabulous and filling recipes to help you lose weight without feeling hungry or unsatisfied.
Another Excellent Pyramid Concept
Mayo Clinic Healthy Weight Pyramid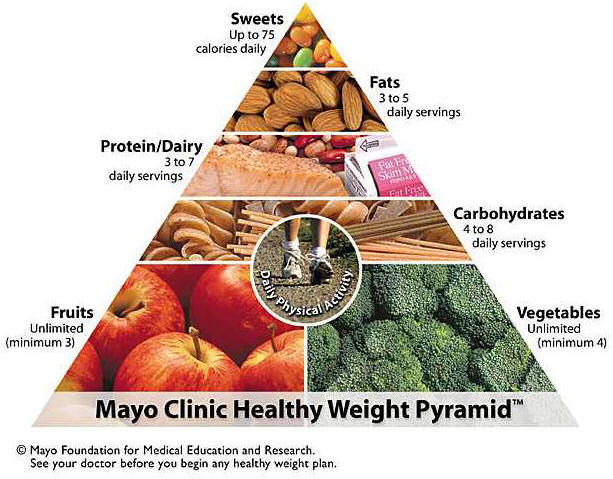 MayoClinic.com: Great, accurate information on diseases & conditions, healthy living, drugs & supplements, health tools, books & newsletters, and more! http://www.mayoclinic.com/
Helps You Lose Weight and Keep It Off!
ROCHESTER, MINN. -- There is no Mayo Clinic Diet. But, there is a Mayo Clinic Healthy Weight Pyramid. This is the first food pyramid developed to encourage weight loss, weight maintenance and long term health.
The Mayo Clinic Healthy Weight Pyramid was developed with scientific principles, research and patient care experience by Mayo Clinic physicians and dietitians. The pyramid is also based on research conducted by weight-loss experts at Pennsylvania State University and the University of Alabama at Birmingham.
The new Mayo Clinic Healthy Weight Pyramid is designed to help you achieve and maintain a healthy weight. Important aspects of the pyramid include:
* Focusing on low-energy-dense foods. The Mayo Clinic Healthy Weight Pyramid is geared toward achieving and maintaining a healthy weight.
* Emphasis on choices that promote health within each food group.
* An unlimited allowance of whole vegetables and fruits -- a practice first tried by researchers at the University of Alabama at Birmingham and found to be effective for weight management.
* Physical activity is at the center of the pyramid, to encourage a central role for regular physical activity.
What is energy density? Energy density basically means you feel full eating fewer calories. The energy density of a food refers to the calories in a given amount of food. Foods with high-energy density contain a large number of calories in a relatively small amount of food. High-energy density foods often contain a high amount of fat or sugar.
Foods with low-energy density usually contain a small number of calories in a large amount of food. Low energy density foods often consist of high amounts of water and fiber. Within each food group, the Mayo Clinic Healthy Weight Pyramid emphasizes eating foods with low-energy density.
Fresh vegetables, fruits and whole grain carbohydrates such as pasta, baked potatoes and brown rice occupy a large volume, take a relatively longer time to eat and lead to a lower overall calorie intake. This promotes weight loss and you still feel satisfied.
The food groups: The foundation of the Mayo Clinic Healthy Weight Pyramid is unlimited amounts of vegetables and fruits (minimum 4 servings/day). One serving of vegetables equals 25 calories; one serving of fruit equals 60 calories. That is 2 cups leafy vegetable, 1 cup solid vegetable or 1/2 cup sliced fruit.
Level two in the Mayo Clinic Healthy Weight Pyramid is carbohydrates including whole grains - pasta, bread, rice and cereals (4-8 servings/day). One serving of carbohydrate equals 80 calories. That is 1/2 cup grain or cereal or 1 slice bread.
Protein/dairy is the third level of the pyramid with both plant-based and animal-based recommendations such as beans, fish, lean meat, low-fat dairy (3-7 servings/day). One serving equals 70 calories. That is 1/3 cup beans, 3 ounces meat or fish or 1 cup skim milk.
Fats, the fourth level of the pyramid, includes heart-healthy olive oil, nuts, canola oil and avocados (3-5 servings/day). One serving of fat equals 45 calories. That is 1 teaspoon oil or 1 tablespoon nuts.
Sweets form the tip of the pyramid, including candy and other processed sweets, equals up to 525 calories a week (75 calories/day).
The Mayo Clinic Healthy Weight Pyramid is included in the book, Mayo Clinic on Healthy Weight, copyright 2000, Mayo Clinic Rochester, Minnesota.
From National Institutes of Health comes an excellent way to lower blood pressure by the way we eat.
This eating plan is from the "Dietary Approaches to Stop Hypertension" (DASH) clinical study. The research was funded by the National Heart, Lung, and Blood Institute (NHLBI), with additional support by the National Center for Research Resources and the Office of Research on Minority Health, all units of the National Institutes of Health. DASH's final results appeared in the April 17, 1997, issue of The New England Journal of Medicine. The results show that the DASH "combination diet" lowered blood pressure and, so, may help prevent and control high blood pressure.

The "combination diet" is rich in fruits, vegetables, and low fat dairy foods, and low in saturated and total fat. It also is low in cholesterol, high in dietary fiber, potassium, calcium, and magnesium, and moderately high in protein.

The DASH eating plan shown below is based on 2,000 calories a day. Depending on your caloric needs, your number of daily servings in a food group may vary from those listed.
To see an example of the DASH eating plan from the National Institutes of Health, click on this link: http://www.nih.gov/news/pr/apr97/Dash.htm
Dietary Approaches To Stop Hypertension DASH EATING PLAN.pdf
DASH Eating Plan Various Levels: DASH VARIOUS LEVELS-Dietary Guidelines for Americans 2005.pdf
Your Guide to Lowering Blood Pressure (NHLBI) Your Guide to Lowering Blood Pressure NHLBI.pdf
Your Guide to the DASH diet DASH Oregon's web site: http://www.oregondairycouncil.org/dash_site/ and Web links and resources: http://www.oregondairycouncil.org/dash_site/links.html