Return to Ecosystem Weight Management
For A Five-Part Holistic Self-Care Program
By Douglas Bloch
Learn How to Heal From Depression and Addictions of All Kinds
You Will Restored to Health as You Make An Investment In YOU!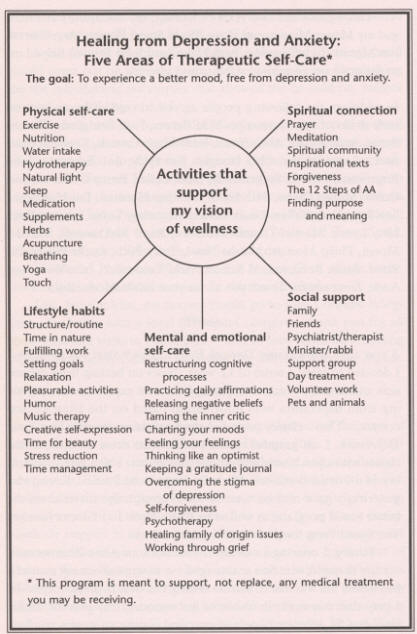 To print off a PDF version: Make An Investment In You.pdf
Douglas Bloch shares in his book Healing From Depression the Activities that support my vision of wellness. He has discovered that healing from depression and cultivating a better mood is a RESULT of practicing the five areas of self care. I have found these same areas of self-care also transform imbalances in body weight.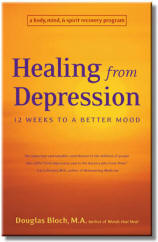 In this groundbreaking book, self-help author Douglas Bloch shares his struggle with and ultimate recovery from a life-threatening depressive illness. He offers a practical "survival plan" for living in hell-which he adopted until a group of committed, loving people held a vision of his recovery which lead to a spiritual healing.

In addition to the personal narrative, the second half of the book contains Douglas's "Better Mood Recovery Program"--a five-part comprehensive program for treating depression and anxiety through a holistic approach that includes diet, nutrition, exercise, social support, attitudinal healing, prayer, meditation and relaxation techniques. The program offers a week-by-week plan with worksheets and goal sheets to customize your recovery. Moreover, the book's appendix contains an extensive catalog of Internet sites offering up-to-date information on treating mood disorders and addictions. Patients and clinicians alike are already calling this informative and compassionate work "a lifeline to healing."

Find Healing from Depression: 12 Weeks to a Better Mood, by Douglas Bloch, Celestial Arts Publishers, www.healingfromdepression.com For a depression screening self-test visit: http://www.healingfromdepression.com/scale.htm
Resources: The Relaxation & Stress Reduction Workbook, by Martha Davis and Mathew McKay, © 2002, New Harbinger Publication, Inc.
What is NAMI? NAMI (the National Alliance on Mental Illness) is the nation's largest grassroots mental health organization dedicated to improving the lives of persons living with serious mental illness and their families. Founded in 1979, NAMI has become the nation's voice on mental illness, a national organization including NAMI organizations in every state and in over 1100 local communities across the country who join together to meet the NAMI mission through advocacy, research, support, and education.

www.teachhealth.com gives the medical basis of stress, depression, anxiety, sleep problems, and drug use—explained in a fun, easy-to-read format. Very informative!
www.mentalhealth.com Best comprehensive site on the Internet. Includes: helpful introduction, comprehensive disorder explanation, diagnosis and treatment, diagnose yourself segment, quality of life assessment, extensive medication description, magazine and books sections, research findings, Internet links, and help.
http://www.depressedanon.com/ Depressed Anonymous® was formed to provide therapeutic resources for depressed individuals of all ages. We work with the chronically depressed and those recently discharged from health facilities who were treated for depression. We also seek to prevent depression through education and by creating a supportive and caring community through support groups that successfully keep individuals from relapsing into depression.
http://www.thedepressiontreatment.com Depression treatment. Learn more about depression in children, teens and adults. Resources discuss depression symptoms, causes and treatment options.

www.feelbetter.org Interactive depression self-help site. From Kaiser Permanente Center for Health Research. Includes a one-time registration. Practical suggestions.
http://www.depression-guide.com/index.htm provides comprehensive explanation of what depression is, the symptoms, types, causes, and treatments. After personal evaluation, your doctor may prescribe medications to help stabilize your thinking processes. Many individuals don't require drug therapy, but it can be essential for some people. I recommend evaluating your lifestyle choices and making gradual changes that fit you and feel good, as an essential component for life-long mental well-being. Inclusion here does not constitute endorsement of this site, or of any other products or services contained therein. See How To Use This Site for ideas on how to begin.
Check out also Therapeutic Help For The Journey and the Self-Care Guide For Mental Health Concerns in that section.