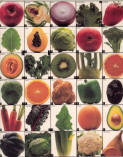 Enjoy Color & Diversity!
Oh, what flavors! Veggies and fruits are packed with essential nutrients and low in calories!
From The American Cancer Society www.cancer.org
1-800-ACS-2345

Bob's Everything But The Kitchen Sink Salad!
Here's my favorite salad! I keep this salad in the refrigerator at all times. It serves as the base for many quick meals and is a terrific way to eat more veggies! I also find it to be delicious to add cooked veggies (Marinated Italian Vegetables or Simple Steamed Marinated Vegetables) on top of the raw salad.

Simple & Delicious Steamed Veggies
Steam red onions (until almost cooked) then add frozen whole green beans, sugar snap peas, and red and yellow peppers and steam veggies until they are still slightly crunchy. Just add Balsamic vinegar and about 2 teaspoons of cumin powder (or more to taste). Um, um, good! For a quick meal, just add canned garbanzo beans, salad dressing, and a crunchy whole-grain bread. Ah...yum!

Steamed Brussel Sprouts
Steam two red onions that have been cut into wedges, then add the brussel sprouts that have been broken off from one stalk (or about 6 cups) until still crunchy, then add red, yellow, and orange peppers that have been cut into wedges. Mix everything up in the steamer, and steam until just slightly crunchy. Add Balsamic vinegar and about 2 teaspoons of cumin powder (or more to taste). Um, um, yummy! This makes a delicious and colorful side dish.

A Miracle! A Teenager Eating Broccoli!
Veggies: A TRUE fast food feast! Just eat'em RAW. Very easy to prepare and very portable. I love cauliflower, broccoli, carrots, green beans, cucumbers, jiccima, kohlrabi, fennel root, jerusalem artichokes, asparagus, tomatoes, and even cabbage. So many veggies, so little time!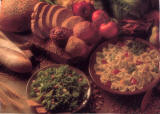 Um! Whole-Grain Breads & Steamed Greens With Beans.
Embrace variety and fresh, delicious new tastes! Check out the Delicious Dinner Recipes for ideas

Celebrate A Healthful Life!
Healthy eating does NOT have to be boring.
My wonderful friend Marcia shares a meal with me.
Explore all of this site for ideas about breakfasts, lunches, dinners, and snacks. You will NEVER have to be bored or eat foods that aren't good tasting and good for you!

A Colorful Easter Celebration!
Create a feeling of consciousness, delight, and pleasure about your eating!
I love mixing flowers (some are edible) along with cut up fruit. Meal also includes a low-fat mini pizza.

Italian Marinated Cauliflower Salad
Colorful, crunchy, and delicious!
See the Dinner Recipe section for lots of ideas for sumptious ways to fix fruits and veggies.
* From Women's Day Magazine

Curried Cauliflower, Peas, and Tomatoes
Some like it spicy!
I like steaming (or microwaving) various vegetables and then I add spicy marinades. See Delicious Dinner Recipes for ideas.
I will also put cooked vegetable mixtures on top of raw salads and then add beans on top. Um! Simple and delicious.
* From Women's Day Magazine

Steamed Carrot, Cabbage, and Green Onions
Red onions and apple go GREAT in this dish too!
See Delicious Dinner recipes for other ideas, as well as the many Web sites that are listed.
* From Women's Day Magazine

Bob's Garbanzo Spread Appetizer (See Dinner Recipes)
For a wedding brunch. I topped the spread with borage flowers, carrot circles, red pepper hearts, and teddi bears. Served with Lavache heart-shaped crackers on top of red leaf lettuce.

Simple Yet Attractive Beet & Asparagus Plate
Taste and savor delicious cubed boiled beets! They were displayed in a bowl with Fosters pickled asparagus spears along with sprigs of parsley and some rose buds from my garden. I brought it to a pot luck and everyone loved it!

A Sandwich Birthday Cake!
Oh what fun! Everyone loves to get these--except children who want ICING!
See Make a Sandwich Birthday Cake section for the recipe.

Tabouli Salad
A suggestion to lower calories is to always include vegetables and fruits along with grains to get a GREATER volume of food while consuming fewer calories.
See Essential Skill #5 for ideas on Foundation Food Plan suggestions and Feel Fuller On Fewer Calories--Volumetrics link.
* From Women's Day Magazine