The Simplest Snack of All
SIMPLE IS BEST! Fresh vegetables or fruits are the best snack of all!
<![if !vml]>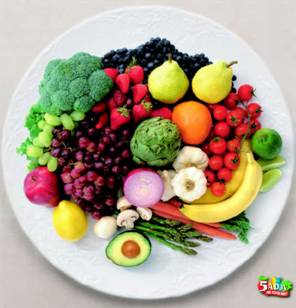 <![endif]>
<![if !vml]>
<![endif]>Take a banana with you to a shopping center and start to munch…people will think, "Boy, that sure looks good! Wonder where they got that?" It even has its own holder! Also works with apples and grapes, as well as, broccoli, cauliflower or baby carrots. Try it, you'll see! You can also draw a "funny face" and a "love note" on the banana. It takes a little practice.
Sumptuous Nutrition Discoveries, Food Facts, Nutrition Quizzes, Tips, Resources, and More: www.dolenutrition.com
Healthy Snack Recipes
MILKSHAKE:
1 cup fat-free milk
½ to ¾ cup frozen fruit (without sugar)
Use blueberries, strawberries, or mixed fruit
Add sweetener and vanilla to taste. Rich, delicious!
BLEND using a blender. Add the milk, sweetener, and any seasonings, then add the fruit slowly until desired thickness.
VARIATION: Add nonfat yogurt for a richer-tasting shake.
This shake helped me lose all of my weight. During a HOT summer I had two cups of fat-free milk and different berries every day. It was SO filling and delicious!
BLUEBERRY YOGURT "ICE CREAM"
8 oz. plain yogurt
¾ to 1 cup blueberries
Add sweetener to taste
Several dashes of ground nutmeg and cinnamon, to taste
Add spices & sweetener to yogurt, mix in blueberries. Mix. Blue color will develop in yogurt. Stir after a few minutes. Ice crystals will form around the blueberries. Tastes like chunky frozen yogurt.
OPTIONS: Use frozen raspberries or strawberries. YUM!
I use to regularly eat half gallons of ice cream. Finding this substitute allowed me to have a rich, creamy, and chunky frozen dessert without all of the extra calories, fat, or sugar! You end up having about two cups of dessert and it is nothing more than one cup yogurt and a cup of fruit! I have this for a snack at least 3 - 4 times each week. Yum!
INDIVIDUAL MUFFIN PIZZAS
-A quick lunch/dinner, or snack.
Toast halves of bagels or English muffins under broiler or in a toaster.
Cover each with tomato slices, tomato paste and fresh onion rings.
Sprinkle with Italian seasonings. Top with shredded low fat Mozzarella cheese and a mushroom cap.
Return to broiler until cheese melts and bubbles. Serve hot.
PITA SANDWICH
Fill ½ whole wheat pita bread with water- packed tuna, fat free mayonnaise, mustard, some thawed frozen peas, and shredded lettuce.
BANANAS NORTH POLE
3 ripe bananas, sliced
1-2 T. orange juice concentrate
Dash of nutmeg
1 teaspoon freshly grated orange peel (for garnish)
Slice the peeled bananas and put in a plastic bag in the freezer. When the bananas are completely frozen, put in a blender, a few at a time, and blend until smooth. Spoon the frozen pureed bananas into 4 sherbet glasses. Top with a dash of nutmeg and grated orange peel. Garnish with a fresh flower from the garden and any other leaves or foliage that would be attractive.
Reprinted with permission from Secrets of Salt-Free Cookery by Jeanne Jones.
BANANAS SOUTH POLE
Slice a banana and top with teaspoon of low fat chocolate syrup.
SIMPLE SOUP
Stir thawed frozen green beans into a serving of canned minestrone soup.
OVEN-ROASTED FRENCH FRIES
By Lonnie Isaacson, R.D.
2 large potatoes, washed, peeled or unpeeled
1 teaspoon oil
salt & cayenne pepper, to taste
OPTIONAL: ½ tsp. each of paprika & cumin
Heat the oven to 475ºƒ. Cut the potatoes in sticks the size you prefer and place in a bowl. Drizzle the oil over the strips and distribute over the potatoes with your fingers. Spray the cookie sheet with food-release spray. Set the potatoes on the sheet in a single layer.
Bake 10 minutes. Turn the strips. Continue baking, checking, and occasionally turning until strips are golden and tender (10-20 more depending on the size of the strips.) Sprinkle with salt and other spices.
Lonnie's family likes to dip them in cider vinegar.
Nutritious & Yummy Snacks
<![if !vml]>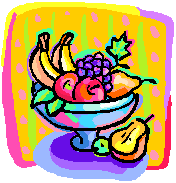 <![endif]>
"An ounce of preplanning is worth a pound of fat!"
"Failing to plan is planning to fail."
By Bob Wilson, BS, DTR
Crunchy/Chewy Soft/Creamy Salty/Spicy Sweet Juicy
Carrots & cucumber

Low-calorie pudding & custard

Popcorn

Dried fruit

All fresh fruit

All raw vegetables

Frozen & regular yogurt

Pretzels

Frozen fruit

Soups

Apples

Bananas

Crackers

Canned fruit

Teas

Asian Pears

Canned fruit

LF tortilla chips

Fruit-see recipes

Hot tomato juice

Rice cakes

LF milkshakes & "blueberry yogurt ice cream"- see snack recipes above

Sharp cheddar cheese

LF shredded soy Mozzarella/Parmesan & Romano cheeses

Cooked yams/sweet potatoes

Red & green pepper

Dry cereals

Jell-O & fruit

Stewed tomatoes (Cajun, Italian, Mexican)

Baked pears & apples

Hot chocolate

LF taco/pita chips

Smoothies

Tomato/vegetable juice

Baked bananas

FRESH carrot or vegetable juices

Melba toast

Ripe pears

Pickles

Jícama with lime juice and chili powder

Hot chocolate

Frozen fruit-juice bars

LF mini muffins

Olives

Jell-O & fruit

Tomatoes

Smoked fish

Chunky cinnamon applesauce

Albacore tuna & cocktail sauce

Low-sugar fruit juice bars

Spicy canned chili

Pears

Raw walnuts, almonds, pecans, soy nuts

Flavored, baked soy beans – Bar-b-que, Mexican & salted

Cranberry Relish-see dinner recipes

Salsa

LF mini muffins

Pickles
* LF is low fat
See Resources 1 section and discover Bob's portable Strength -Training Food Bag.
See book Snacking Habits for Healthy Living By American Dietetic Association