The Fourth Area of Change was Transforming the
Root Causes of Social Isolation
To expand my social life, I learned that life is about relationships—with ourselves and other people.
I needed to learn how to establish good relationships with people, not just FOOD! I had to find out how to be honest with others and myself, both at home and at work. I started by setting right my family relationships with my father, mother, grandparents, and the God of my understanding. I did this by using the tools of a support group.
I really wanted to learn how to deal honestly and openly with all relationships. I found if there were problems to work through, even if they were difficult to face, I should face them.
This area was one of the most challenging for me. I needed to find a counselor who could help me through all this learning. (The Essential Skills section has suggestions on getting therapeutic help for your journey.) It is in the family system that we learn about how to explore our world, what our identity is and how to develop skills for being competent in the world. We also experience—at a deep core level—our unconditional value as human beings and learn how to establish healthy patterns of intimacy and concern for others. We also learn about how to resolve problems and to set limits for ourselves. The family is an ongoing laboratory where we gain knowledge of all of these things.
At each stage of our life, we learn a predictable series of skills. If development is impeded at a particular point, an important skill may not be learned affecting the next stage. The first four to six years of life are when we are most dependent, receptive, and malleable—and they have a profound effect on the rest of our lives. For me, being wounded at many of the stages affected all of my relationships—with myself and other people.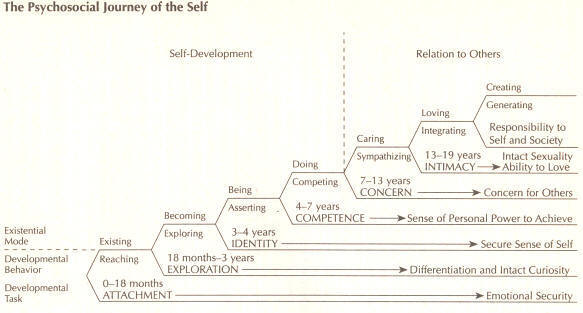 From Harville Hendrix, Keeping The Love You Find, 1992
I learned about these concepts in Keeping The Love You Find, by Harville Hendrix, (1992, Pocket Books). Check out: Imago Theory The book explains with amazing clarity how our initial relationships form an imago, a buried potential image, and consequently create an unconscious attraction to fall in love with someone who has the positive and negative traits of our imperfect parents. This is someone who we feel will meet our emotional needs—except that they can't. My parents' positive traits were: they liked the earth, nature, and flowers. They had an intense spiritual side, were sensitive and sincere, intelligent and honest. Their negative traits were: they didn't take care of themselves, abused alcohol, food and drugs. They didn't communicate about feelings or work through problems in healthy ways, and they finally abandoned me—if not physically, at least emotionally.
I was baffled by relationships. Were there really any healthy ones on earth? I hadn't seen them. How did people create one? I sure hadn't learned about how to have one. I am so grateful that I could learn—through books, classes, and individual counseling about nurturing relationships.
These were my initial experiences:
1. My parents' failed relationship and their individual, multiple, unhealthy, unsuccessful marriages to other people.
2. My first relationship at age 21 to a person with many fine qualities as well as many addictive habits and harmful patterns: alcohol, drugs, and non-monogamous sex. I ended this relationship after 16 years.
3. Few of my friends and other family members had loving, long-term relationships.
4. I noticed that the same patterns just kept repeating for people—again and again—but I didn't know how to stop and change the process. I became aware of the fact that if people didn't LOOK at the root patterns, which resided under the surface, they created the same problems, just with a different person.
5. I thought that if heterosexual people had so many problems with relationships, that as a gay man, I was sure that I'd have to move to Mars to find someone.
To transform the patterns in my life, I chose to explore the root causes and try out new skills and choices. This took extensive soul-searching and working through the kinds of exercises included in this book. I kept notes in my journals as I dated (about 100 people!) Through this process, I went through the normal socialization process, but at 40 years old, that I hadn't gone through in my teens. I noted all my feelings, compulsive eating binges, successes, failures—all my ups and downs—as I noticed that "those people whom I wanted to fall in lust with me, didn't and those people whom I did not want to fall in lust with me did!" My counselor shared resources with me on healthy dating and self-love and helped me put together a list of the qualities that for me were essential in a heart-centered, loving, and conscious relationship—both with myself and for another person.
My counselor encouraged me to think about giving to myself all of the love and nurturing that I'd like to receive from someone else and really be willing to give it to myself. To ask myself, what I would like? Am I willing to give it to myself? What would my vision for the relationship be?
She told me that I needed to complete the inner work before the outer need would be met. That I would get the person I needed as I healed and that my deepest inner needs would be met when I was ready. She said that "I'm the cake and the relationship is the icing on it."

I'M SO GLAD I TOOK THE TIME AND EFFORT TO DO THIS! It opened the door for me to wonderful new relationships.
Another enormously challenging area of learning was how important it is to watch extreme loyalty (codependency)—sticking with people (family, friends or lovers) when they practice self-destructive behaviors. We are doing neither them nor us a favor when we do not let them know their behaviors are not okay with us. The responsible action to take here is to communicate we will stay in relationship with them only if they are willing to make changes...and to follow through on those changes. We can also tell them we love them and deeply hope they take responsibility for their choices.
Explore: When Helping You Is Hurting Me and Thoughts On Healing and Helping Yourself and Others