When Helping You Is Hurting Me: Are You a Help-Aholic and Don't Know How to Care for Yourself?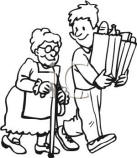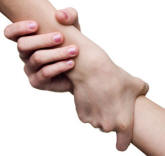 Many of the clients that I work with and the people I see in the classes I have taught, find that their lives are dramatically out of balance. Many times, the imbalance is the result of "over commitment to others and under commitment to themselves." The end result is mental, emotional, and physical illness or dis-ease.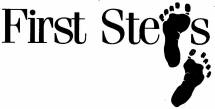 To be able to transform this area the first step is noticing this pattern and it's affect on your life, and then seeking out resources to be able to come up with a PLAN to make gradual changes. I have listed below several excellent resources to begin your journey. Many people have found them extremely helpful!
For me, it took two years to notice this pattern in myself, and then cultivate new daily choices to escape the messiah trap!
Reflect on: Home Coming: Reclaiming and Championing Your Inner Child & Healing Adverse Childhood Experiences
In Carmen's book she explores how people fall into the messiah trap. There is a strong tendency to take care of everyone else's needs and ignore our own. She describes how messiahs are trapped through childhood trauma and many early life experiences. She explores messiah behaviors and characteristics (I was AMAZED at how many I have!), and most importantly, how to escape the messiah trap. Published July 2003
Messiah characteristics (help-aholics):
Tries to earn a sense of worth by "acting" worthy

Lets others determine his or her actions

Needs to overachieve

Is attracted to helping those with similar pain

Experiences difficulty in establishing peer and intimate relationships

Is caught in a cycle of isolation

Is driven to endless activity

Stops when he or she drops
So, how about for you? Do these characteristics describe some of your personality traits? Perhaps consider "putting yourself on the list of people you care for!"


"A great help to all...who wonder why they are exhausted and burned out...Shows us how to love ourselves and our work (so that our) energy source isn't depleted and our self-worth isn't affected." Bernie Siegel, M.D. This book teaches how people pleasers, rescuers, givers, counselors, protectors, teachers and crusaders can learn to love themselves--and truly help the ones they love.
Take Time for Your Life, Life Makeovers, Stand Up for Your Life, by Cheryl Richardson, (1999 – 2002), Broadway Books, New York, NY.
Take Time for Your Life: A Personal Coach's 7-Step Program for Creating the Life You Want provides a program for creating the life that is in HARMONY, and allows you to BALANCE THE LOVE AND SUPPORT THAT YOU GIVE TO OTHERS WITH THE CARE YOU GIVE TO YOURSELF! Gives 52 practical & inspiring ways to improve your life one week at a time.
These books are excellent! Electronic newsletter at: www.Cherylrichardson.com
Codependent No More: How to Stop Controlling Others and Start Caring for Yourself by Melody Beattie. Hazelden Publishers, (1996).
Where recovery began for many people, this inspiring, straightforward, personal explanation of what codependency is and who has it gives listeners the option to change unhealthy behaviors and stressful relationships, as they rediscover hope, guidance, and encouragement.
I found this book to be INCREDIBLY helpful for me. It helped me set better boundaries between myself and others. Chapter 11 is about how to: have a love affair with yourself!
A concept that REALLY helped me be gentler with myself was to remember I STILL HAVE a "little child" part of me INSIDE my adult body. I learned to make friends with that emotional part of me—to remember HOW little children grow and change. They NEED freedom to try out new things, they need support and encouragement for their efforts, and they ALWAYS need unconditional love that nurtures them while they're learning. They need to feel that their worth is NOT tied to performance, that they are O.K. and loved—no matter what. As an adult, I know how to do MANY things with great skill. In OTHER areas of life, I still feel like "a kid in poopy diapers!" I NEED HELP to clean up my messes. I NEED LOVE AND ENCOURAGEMENT.
One superb book on the issue of learning to love, support, and nurture yourself is Self-Parenting—The Complete Guide to Your Inner Conversations by Dr. John K. Pollard, III. (Scrutinize Resources 1 section and other resources on this page.)
It is also essential that I allow ENOUGH TIME to provide for my ongoing needs. To SHOW me that I'm worth caring for. Investigate also THE EMOTIONAL AREA OF BOB'S story for how I came to have a LOVE AFFAIR WITH MYSELF!!
<![if !vml]>
<![endif]>
Me at about 3 years old

Thin For Life, Eating Thin For Life, by Anne M. Fletcher, M.S., R.D., (2003), Houghton Mifflin Company. Includes: Anne shares the integrated weight-loss secrets of 160 masters—who had kept off at least 20 pounds for 3 years. Keys to Success are: Believe That You Can Become Thin For Life, Take The Reins, Do It Your Way, Accept The Food Facts, Nip It In The Bud: Break The Relapse Cycle, Learn The Art Of Positive Self-Talk, Move It To Lose It, Face Life Head-On, Get More Out Of Life And Don't Go It Alone—getting support for you. Masters share and Anne summarizes the best ideas under each area. It is an suburb book. See Ann's web site for a description of her other WONDERFUL BOOKS http://annemfletcher.com/

In the Face Life Head-On chapter #9 Ann shares the importance of balance in our lives and how that affects our quality of life and out ability to maintain lost weight. Ann also shares a variety of suggestions for developing a more fulfilled life.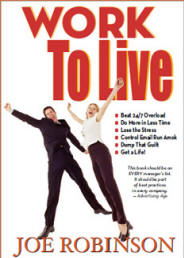 Work to Live, by Joe Robinson, (2003), http://www.worktolive.info/ Reclaim your life & sanity! The guide to getting a life!

You're not imagining it. Almost 40 percent of us are now working more than 50 hours a week. We put in two to three more MONTHS in total hours on the job each year than the Europeans, 2.5 weeks more than even the Japanese. We're now working more than we have since the 1920s. Our already paltry vacations are being stalled, cancelled, and shrunk into non-existence. The result is record levels of stress, burnout, depression, divorce and latchkey kids. And what do we get for all the extra hours? Vaporized 401k's and corporate scandals.

WORK TO LIVE shows you how to beat the unwritten rules of work life, the stuff no one ever talks about that drives overwork, missed vacations, and you to wits end. Find out how to get more time for life and avoid being a gibbering stress case. Get the tools you need to:
Break the Ten Office Commandments, the rules of work life that keep you overdoing it
Escape the automatic stress cycle
Increase your vacation time
Work fewer hours and get more done
Beat the false urgency of 24-7 technology
Set clear boundaries between work and home
Resist pressure from the company and culture to overwork
Practice the Worth Ethic and enjoy the time you clear without a shred of guilt
Rediscover the outside world through the magic of direct experience
Create your Personal Life List (what do you want to do on this planet?)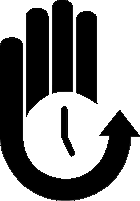 Another excellent resource is Take Back Your Time Day at: www.timeday.org John de Graff explores excellent ideas about putting our lives back into balance. He explores how we can have a more satisfying, less hurried lives that prioritize relationships and communities instead of products. This is an organization that brings together leaders in the Voluntary Simplicity movement to create new strategies for sustainable consumption, economic justice and balanced lives.

Simplify Your Life- 100 Ways To Slow Down and Enjoy The Things That Really Matter, by Elaine St. James, (1994), Hyperion, New York
The Simple Living Guide, by Janet Luhrs, (1997), Broadway Books, New York

See Bob's Story for For ideas on how I GRADUALLY applied the AMAZING WISDOM that is contained in the resources above. Check out:
To help TAKE CHARGE of this pattern, See:
A Daily Reminder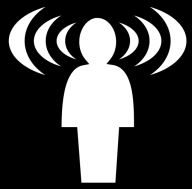 Change your moment-by-moment choices, change your life!
Pay attention! Live in AWARENESS, not just on autopilot.
Notice your PATTERNS. WHO is going to live your life?
YOU or your patterns?
See Reasons We Eat: Healthful and Harmful section.
Some daily reminders for making an effort—by reflecting, reading, studying, trying new things out each week. So in effect, set your motivation—your reason for making the effort.