<![if !vml]>

<![endif]>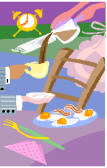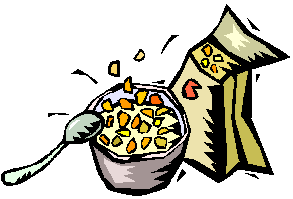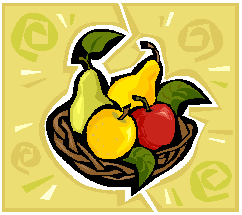 Breakfast can give your day an energizing start, help end midday splurges, and may help curb your late-evening, out-of-control appetite.
Eating breakfast helps us think more clearly and have better emotional stability. Breakfast skippers burn 150 calories less per day than regular breakfast eaters, even with the same total calories eaten. Our digestion of foods uses about 10% of our total calories that we eat. If we don't eat small, frequent meals our metabolism slows down. We also get over hungry and tend to eat quickly and eat too much when we DO finally eat.
Also, people who eat a high fiber cereal for breakfast tend to have less body fat than those who skip breakfast or those who eat eggs, bacon, or bread items such as bagels or French toast for breakfast. My favorite breakfast is lowfat cottage cheese with various cut up fresh fruits, orange essence dried plums, a slice of whole wheat raisin walnut bread along with some flax seed oil or healthy fats, and a cup of coffee.
Whole-grain cereal with milk and fruit. Perhaps add raw walnuts, almonds, or some pecans.

Toast a whole-grain freezer waffle or pancake and top with fresh fruit.

Microwave Shredded Wheat Biscuits with fat-free milk and cinnamon for an instant hot breakfast. (Or use quick-cook oatmeal.) Perhaps add raw walnuts, almonds, or some pecans.

Pick up a low-fat whole grain muffin and a half-pint of fat-free milk or low-fat milk (or soy milk) on your way into work.

Yogurt!

A smoothie! Make a blender breakfast with milk, yogurt, and fruit, such as banana, peach, or strawberry.

Mix nonfat or low-fat yogurt with fresh or dried fruit. Can add uncooked oatmeal flakes, and some nuts ( I like walnuts, almonds, or pecans) for added crunch.

Mix nonfat or low-fat vanilla yogurt with Grapenuts, sliced bananas, and cinnamon.

Try any of the following with whole-grain toast:

Low-fat cottage cheese, ricotta cheese, or plain yogurt mixed with vanilla extract, if desired. Add raisins or other dried fruit, peaches, blueberries, pears, pineapple, strawberries, bananas, frozen orange juice concentrate, chunky applesauce, or grated apple. Sprinkle with nutmeg, ginger, or cinnamon powder.

Scrambled egg substitute with mushrooms, green onion, sliced olives, and reduced-fat grated cheese.

Top with sliced low-fat turkey, low-fat grated cheese, and melt in a toaster oven.

Whole-grain bagel topped with low-fat or fat-free ricotta cheese, cottage cheese, or cream cheese.

Melt reduced-fat cheese over an English muffin in a toaster oven.

Use leftover rice, or prepare oatmeal or other hot cereal with dates, raisins, peaches, or berries, and/or chopped nuts and cinnamon. Top with fat-free or low-fat milk or soy milk.
BREAKFAST RECIPES
<![if !vml]>

<![endif]>
Bob's Breakfast Apple Fritters
1 apple, peeled and grated, then BLEND IN:
¼ cup non-fat milk
1 egg (or substitute)
1 teaspoon vanilla
1 teaspoon brown sugar
3-4 shakes cinnamon and 1 slice whole wheat bread.
WHAT TO DO: Mix grated apple into blended ingredients. Spoon mixture into non-stick skillet and cook until crisp on both sides. ENJOY!
__________________________________________

Bob's Breakfast Cheese Pancakes
¼ cup fat-free milk
1 slice rye bread, broken into pieces
1 tablespoon dehydrated minced onions (or fresh)
¼ cup low-fat, or nonfat cheddar cheese
Salt & pepper (to taste)

WHAT TO DO: Pour milk into blender and add bread and onion. Blend until batter becomes smooth. Pour into a bowl and add cheese. Drop by tablespoonfuls into hot, non-stick frying pan. Turn to cook until brown on both sides. Cheesy good!
80 calories, 54 fat calories per recipe
__________________________________________
By the way, there is NO reason that you couldn't eat ANY KIND of food for breakfast. Any healthful choice is better than nothing! Consider exploring: