DELICIOUS QUICK MEALS & DINNER RECIPES
By Bob Wilson BS, DTR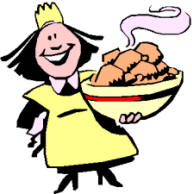 I suggest that you try new recipes. Any recipe is just a beginning—an opportunity to adapt, modify and change the details to get taste and good nutrition in every bite. If you don't have all of the spices, don't worry! Use what you have. I encourage you to have enjoyment in eating or MOUTH FUN! The Recommended Cookbook List (See Resources and link below) offers you numerous suggestions for delicious meals and snacks. Happy reading and cooking!
Oodles of additional food ideas for breakfasts, lunches, and snacks can be found in the Essential Skills (skill #6) section of this web site. You'll also find ideas about setting up a healthful kitchen and pantry that allows making quick dinners. Mix and match all of these ideas to discover a wonderful new style of eating. Enjoy!
Planning and Preparing Delicious Recipes
DINNER, WHAT'S QUICK & EASY? HOW TO PLAN MENUS
Bob's Healthy Kitchen and Pantry, What's In It?
CELEBRATE Healthful Eating! Yum! Make It FUN. Make It Colorful!
Discover Creative Holiday Garnishing FUN: Make a Sandwich Birthday Cake and More!
For Bob's Garbanzo Spread Appetizer, also check out: Celebrate Healthful Eating!
Quick Menu Ideas for Home and On the Go
Quick Vegetarian Main Dish Ideas
Lowfat & Fast Dinner Recipes: Real Food for Busy People
Recipe, Magazine,and Menu Resources

CELEBRATE SALADS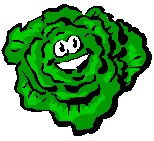 Chop celery, some cucumber, and apple into small pieces. Add small amount of slivered almonds and orange-essence prunes. Mix in fat-free raspberry or strawberry/banana yogurt.

Finely slice some red and/OR green cabbage and a little onion. Mix well. Add a few grapes, a sprinkling of caraway seeds and fat-free raspberry vinaigrette dressing.

Left-over beans can be made into a salad by adding some finely chopped celery or onion, peppers, sliced tomato, and the dressing of your choice. Use kidney, black, garbanzo, or lentils—whatever you have handy, alone or in combination. Add spices and dressing.

Celery pieces with a few dates, chopped banana, and a finely chopped fennel root are refreshing. Mix with fat-free sour cream. Serve on chopped Romaine lettuce.

Use bagged baby spinach. Add drained mandarin orange sections, optional: sliced
strawberries, sliced water chestnuts, sliced red onions and bottled low fat Italian dressing with balsamic vinegar.

To a small carton of low fat or fat-free cottage cheese, add a good portion of chopped green vegetables (e.g. broccoli, cucumber, celery, peppers). Mix in some fruit—any kind. Add black pepper or Italian seasonings. Serve with crackers.

See also 13 Ways To Eat More Fruits & Vegetables section
For additional Entree ideas go to see Lowfat & Fast Dinner Recipes: Real Food for Busy People.
__________________________________________
Lonnie's Fat-free Sweet and Sour Salad Dressing
2 T. frozen apple juice (not diluted)
2 T. apple cider vinegar
Pinch of dry mustard
Pinch of marjoram

WHAT TO DO:
Mix ingredients. Serve over mixed greens with other vegetables, as desired.
18 calories, 0 fat calories/Tablespoon

Bob's Italian "Everything but the Kitchen Sink" Salad


I cover up the salad with plastic bags knitted hot pads to keep it fresh
Here's my favorite salad! I keep this salad in the refrigerator at all times. It serves as the base for many quick meals and is a terrific way to eat more veggies! I also find it to be delicious to add cooked veggies (Marinated Italian Vegetables or Steamed Marinated Vegetables below) on top of the raw salad. Serve with a bowl of Lentil Soup. Um, um Good!
Chopped Romaine lettuce, kale and spinach (to make easier, used bagged, pre-cleaned)
Shredded red cabbage and carrots
Sliced radishes, sliced fennel root, and mushrooms
Broccoli and cauliflower, broken into florets
Can add: thawed frozen petite peas, corn kernels, or green beans
- Add on top, diced Roma tomato (or Mini-Pearl variety), and cucumber (add just before serving).
-Mix in large bowl. Cover with plastic bags and hot pads to keep the sacks from slipping. This NINE pound salad lasts about one week for two people! A delicious way to eat your veggies!
Be prepared! Achieve your dreams of eating those dreaded veggies. See how a friend did it: Having Lettuce by Sandra Stephens.pdf
DRESSING: Bernstein's Light Fantastic Cheese Fantistico! and fat free blue cheese dressing or Balsamic vinegar
- A great salad mix that lasts 3-4 days (or more) in refrigerator.
- Top with kidney or black beans, fat free cheese and Garden or Boca Burger® or turkey cotto salami. Mama Mia! Or, to above recipe add canned salmon or tuna and fat-free Miracle Whip®
__________________________________________

Sumptuous Spring Asparagus Salad
Steam until tender but not overcooked:
1 large red onion, peel, cut into 1" chunks, steam until almost tender, then add
3 bunches asparagus, washed, and cut into 3" chunks (break off woody end first)
After steaming, put into a BIG bowl. Mix all together and then...
ADD RAW:
3 red (or yellow) peppers, seeded, and cut into chunks
2 cups grape tomatoes
2 cups frozen petite white corn
POUR DRESSING OVER AND MIX:
½ cup seasoned rice vinegar
½ cup Bernstein's Light Fantastic Cheese Fantistico! Dressing
1-tablespoon olive oil
1-teaspoon garlic powder
Ground black pepper, to taste
Makes 13 cups of salad. You can always cut the recipe in half.
__________________________________________

Bob's Steamed Marinated Vegetables
Use whatever you have on hand. Suggestions include:
1 large red onion, sliced
10 baby red potatoes, cut in ¼'s (optional)
3 cups fresh Brussels sprouts, cut off ends
4 carrots, sliced diagonal or baby carrots
3 parsnips, peeled chunked
1 red and 1 green pepper, seeded & diced
2 cups mushrooms, chunked
2 cups kale, chopped (optional, but yummy!)
2 cups frozen whole green beans, broken in half
Optional, add frozen peas or corn kernels

WHAT TO DO: Steam onions, potatoes, Brussels sprouts, carrots (about 7 minutes), then add parsnips and steam 5 minutes, then add peppers and mushrooms and kale. Continue steaming until the parsnips are just cooked and NOT mushy. Transfer steamed veggies to large bowl and add the frozen veggies and dressing. Mix to coat vegetables.
DRESSING: Berstein's Light Fantastic Cheese Fantistico! Dressing, Balsamic vinegar, garlic powder, black pepper, and dried basil—or, in place of those spices one can use lots of dried dill weed.
- Will keep for a week in the refrigerator.
Serve on top of raw Italian salad above. YUMMY!
__________________________________________

Bob's Mixed Veggie and Fruit Salad
3 large apples, cored and cut into chunks
1½ cups pineapple chunks
2-3 stalks celery, diced
2 cups thin sliced carrots
1 cup diced red & green pepper
2 small oranges, sectioned and cut into chunks
¼ cup raisins
DRESSING:
1 cup non fat yogurt
½ cup of undiluted orange juice concentrate
juice of one lime
4 dashes of ground cinnamon & cardamom,
3 packages of Equal® sweetener.

WHAT TO DO:
Combine fruits, vegetables and dressing. Chill.
Serving suggestion: add a bowl of hearty soup and baked bananas for dessert
Yields 10 cups
__________________________________________

Bob's Carrot-Apple Salad
1 pound carrots, coarsely grated
2 medium apples, grated
½ cup diced celery
½ cup pineapple, diced
¼ cup raisins
DRESSING:
1 cup non fat yogurt
2 teaspoons celery seed
2 dashes nutmeg
¼ teaspoon ground ginger
One lime, juiced
1 tablespoon honey ( or 3 pkg. Equal® or Splenda).

WHAT TO DO:
Mix dressing ingredients and add to shredded carrot/apple mixture. Mix well and chill. Makes 10.5 cups salad. 70 calories, I fat calorie/cup
__________________________________________

Bob's Delicious Marinated Italian Vegetables
VEGETABLES, #1 (STEAMED):
2 cups carrots
2 cups zucchini
6 cups cauliflower (small head)
4 cups broccoli (small bunch)
3 stalks celery

DRESSING:
½ cup & 3 T. Chili sauce (or use LF tomato-based spaghetti sauce)
1 tablespoon olive oil
¼ cup freshly squeezed lime juice
¼ cup wine vinegar
2 tablespoons Balsamic vinegar
3 large cloves garlic, minced
1 ½ teaspoon dry mustard
1 ½ teaspoon dried oregano leaves
1 ½ teaspoons dried basil leaves
1/8 th teaspoon black pepper

VEGETABLES, #2:
1 jar (6 ounces) artichoke hearts, drained and quartered
½ pound fresh mushrooms, sliced chunky
OPTIONAL VEGETABLES:
½ of 13-ounce jar mild Greek pepperoncini peppers, drained, cut up
1 pint cherry tomatoes
1 can, 8-ounce sliced water chestnuts, drained
1 large red pepper, seeded and cut in chunks

WHAT TO DO: In a sauce pan, combine dressing ingredients and bring to a boil.
Chop or slice first 5 vegetable ingredients into attractive bite-sized pieces. Steam vegetables until just tender.
Put all ingredients in a LARGE bowl. While dressing is hot, pour over the steamed vegetables #1.
Toss gently, cool to room temperature, and add #2 vegetables. Toss gently. Chill.
This marinated salad works as an appetizer, served over baked potatoes, or as a salad. Just add kidney beans, crackers and fresh limeade. Adapted from The New American Diet By Sonya Connor MS, RD and William Connor, MD
__________________________________________

Bob's Black Bean and Corn Salad
2 cups dried black beans (or 3-4 16-oz. cans, drained.)
2 ½ cups frozen corn, thawed
1 cup red onion, minced
2 red bell peppers, minced
1 green pepper, minced
1 cup fresh cilantro, minced
1 cup fresh parsley, minced
DRESSING:
5 large-sized garlic cloves, minced
¾ cup fresh lime juice (3 to 4 limes, juiced)
4 tablespoons olive oil
1 tablespoon and 1 teaspoon ground cumin
1 teaspoon celery seed
1 teaspoon ground coriander
¼ to ½ teaspoon salt
Black pepper, to taste

WHAT TO DO: Soak black beans, preferably overnight. Simmer for about 1 ¼ hours—until just tender, drain ( or use canned, drained beans).
Mix up dressing ingredients in a small bowl. In a large bowl, combine all ingredients. Best if marinates a few hours. Keeps up to a week refrigerated.
Serving suggestion: put on top of Bob's Italian "Everything but the Kitchen Sink" Salad. The textures, colors and tastes are AMAZING!
__________________________________________

SIMPLE VEGETABLE SIDE DISHES
Lonnie's Baked Acorn Squash with Apples
1 large acorn squash
1 apple

WHAT TO DO: Preheat oven to 400 degrees. Split squash in half lengthwise. Remove seeds with a spoon. Quarter, core, peel, and chop the apple and divide between the squash centers. Place halves in baking pan and fill the bottom of the pan with ¼ inch of water. Cover the pan with foil and bake 35-45 minutes until the squash is tender.
110 calories, 0 fat calories per 1/2 cup

Bob's Steamed greens and Peppers
One bunch of kale, Swiss chard, collard greens, mustard greens, or turnip greens, washed, chopped in 1-inch slices
1 red pepper, seeded, chunked
Parmesan cheese
OPTIONAL: mushrooms and red onions, sliced
WHAT TO DO:
Put all vegetables in the steamer for about 4 minutes, until just "crisp tender".
OPTIONAL: Sprinkle with small amount of Parmesan cheese. ENJOY!
____________________________________
Bob's Onion-Apple Stir Fry
Use equal amounts of:
onions (red ones are best!)
apples
Add raisins, vinegar and lime juice, to taste
Cinnamon, all spice, and pepper to taste

WHAT TO DO:
Slice the onions and slice or chunk the apples. Sauté the onions until golden in a non-stick pan (use non-stick spray). Add the apples and raisins, season with vinegar and lime juice.
Season with pepper, cinnamon and all spice.
Cover, and steam until the apples have softened.
_________________________________________

Bob's Red Cabbage and Apple
Use red cabbage and red onions
Apples
Brown sugar
Raspberry-flavored wine vinegar
Salt
Pepper

WHAT TO DO:
Peel and cut the red onion in chunks. Sauté it in a non-stick pan in some olive oil, until almost brown. Then, cut the cabbage in 1/2 inch wedges. Add to the onions and sauté for 5 minutes, then add chunked apples (an apple corer makes this easy!).
Then sprinkle with brown sugar & red raspberry wine vinegar to make a sweet and sour taste. You can add pepper, cinnamon and all spice. Cover, cook for five minutes and serve.
_____________________________

Bob's Microwaved Sweet Potato or Yam
Yam or sweet potato (higher in Vitamin A content)
-Leave unpeeled and scrub well
Orange juice concentrate
Ginger and cinnamon powder

WHAT TO DO:
Microwave yam until soft (about 5 minutes).
Top with defrosted orange juice concentrate that is mixed with cinnamon & ginger powder—enough spices to "taste" them. Sumptuous! Simple.
_________________________________________


SOUPS
<![if !vml]>
<![endif]>

Lonnie's 12-Bean Soup
1 pound mixed beans, rinse, cover with water, soak overnight, drain
1 cup carrots, sliced
1 large onion, chopped
1 cup celery, sliced
28-ounce can chopped tomatoes
3 garlic cloves, minced
4 chicken bouillon cubes
8 cups water
½ teaspoon basil
½ teaspoon oregano
¾ teaspoon cumin

WHAT TO DO:
This soup is easy to prepare. It takes 15 minutes to assemble, but takes 3 hours to simmer. A crock pot is helpful. Mix soaked beans with remaining ingredients in a large pot. Simmer 3 hours or until tender. While it simmers, relax and enjoy the aroma.

200 calories, 15 fat calories/cup

__________________________________________

Lonnie's Easy Garbanzo Bean Soup
1 medium onion, chopped
1 clove garlic, minced
1 stalk celery, chopped
1 carrot, thinly sliced
1 medium potato, diced small
2 ½ cups water
1 small green pepper, diced
16-ounce can chopped tomatoes
¼ teaspoon pepper
16-ounce can garbanzo beans
½ chicken bouillon cube.

WHAT TO DO: Combine all ingredients. Bring to a boil. Simmer for 10 minutes until vegetables are tender.

Makes 7 cups. 137 calories, 19 fat calories/cup.


______________________________

Bob's Lentil Soup
2 cups dried lentils, or split peas (peas take longer to cook than lentils)
4 cups chicken or vegetable broth, or water
2 cans (14.5 oz.) Italian stewed tomatoes
5 stalks celery, diced
4 large carrots, shredded
6 cloves garlic, minced
1 large onion, chopped
3 tablespoons imitation bacon bits
1-2 skinned chicken breasts (optional)
Fresh ground black pepper
1 tablespoon paprika
1½ tablespoon dried thyme
2 tablespoons dried rosemary
1/3 cup Dijon mustard

WHAT TO DO: Add all ingredients to large pot except the mustard. Bring to boil, then cover and simmer for 1½ hours, until lentils (or peas) are tender. Remove chicken (if added) and set aside until cool enough to handle. With a spoon, skim any visible fat off top of soup mixture. Remove chicken meat from bones and return meat to soup. Stir in mustard. Taste. Add other spices as desired. Add French bread!

_________________________________________

Bob's Cream of Broccoli Soup
4 cups fresh broccoli, chopped
1 medium onion, diced
¼ pound mushrooms, thinly sliced
¼ teaspoon white pepper
3 chicken bouillon cubes and 1 ½ cups water, (OR
2 cups chicken broth)
2 ounces grated Parmesan cheese
1 ½ cups buttermilk
¼ cup white wine (or use alcohol-free)

WHAT TO DO: Add broccoli, water and bouillon cubes OR chicken stock, onions, mushrooms and spices to 4 quart saucepan. Cook mixture until broccoli is tender. Reserve a little more that ¼ of cooked vegetable mixture. Place other ¾ in blender. Add buttermilk and wine. BLEND 45-60 seconds (till mixture has smooth appearance). Return to saucepan and ADD reserved vegetable mixture and cheese. Heat thoroughly over medium heat. Serve with a dash of paprika or nutmeg, if desired. Makes 4 servings.

__________________________________________




SANDWICH SPREADS/TORTILLA WRAPS

<![if !vml]>

<![endif]>
Lonnie's Hummus
1 can of garbanzo beans
Juice of 1 lemon
1 clove garlic, peeled
1 T. tahini paste (opt.)
Pinch of cayenne pepper (opt.)

WHAT TO DO: Rinse and drain beans. Put in food processor with other ingredients and process until smooth. Serve with warm pita bread and fresh vegetables.
50 calories, 24 fat calories per 1/2 cup
____________________________________


Lonnie's Oriental Burritos
1 can of black or red beans
2 cups of fresh bean sprouts
4 green onions, chopped
1 cucumber, peeled, seeded, julienned
½ cup hoi sin sauce
10 flour tortillas

WHAT TO DO: Rinse and drain beans. Rinse sprouts under very hot water and drain. Heat tortillas in 400 degree oven for 1 to 2 minutes, or warm in skillet for 30 seconds per side. Spread with hoi sin sauce. Top with beans, onions, cucumber, and sprouts. Roll up and enjoy. Makes 10 burritos.
217 calories, 54 fat calories/burrito
__________________________________________

Lonnie's Vegetable Burritos
12 8-inch whole wheat or corn tortillas
16-ounce can black beans, rinsed
10-ounce pack frozen shopped spinach, thawed and drained—can use the microwave to thaw
16-ounce container of fresh salsa (hotness level you prefer)
1 cup corn, frozen or canned (drained)
1 teaspoon cumin
1 ½ cups shredded fat-free or low-fat cheese
Fat-free sour cream, salsa, cilantro (optional)

WHAT TO DO:
Wrap tortilla tightly in foil and heat in 350º oven for 10 minutes
Combine beans, spinach, salsa, corn and cumin in skillet and heat through. Mash slightly.
Sprinkle each tortilla with 1/8 cup cheese, and 1/3 cup bean filling. Roll and place seam down on a plate.
Top with fat-free sour cream, more salsa, and chopped cilantro, if desired.
Serves 12 (1 burritos each). 236 calories, 30 fat calories per serving.
__________________________________________

Pat's Fajita
Whole-wheat flour tortilla
Onion, sliced
Colored bell peppers (red, green, and/or gold), sliced
Zucchini, sliced
Fat-free sour cream
Salsa

WHAT TO DO:
Cook vegetables in microwave until crisp tender.
Microwave tortilla a few seconds until hot.
Top with vegetables, sour cream and salsa.
Roll it up.
VARIATIONS: add cooked chicken, beef, pork or lowfat cheese to the filling.
227 calories, 30 fat calories per fajita (without added variations)
______________________________

Bob's Garbanzo Spread
3 cups cooked garbanzo beans (1½ cups dry--
soaked overnight and cooked, or use 3 c. canned)
1-2 lemons (depending on how juicy), squeezed
1 large onion, skinned, sliced
4-5 cloves garlic, or 1 teaspoon garlic powder
1 tablespoon (or more) olive oil,
2 tablespoons raw sesame seeds
1¼ cup fresh parsley, chopped fine
5 carrots, shredded with food processor
2 tablespoons dried basil
1½ teaspoons dried oregano
1½ tablespoons cumin powder
OPTION: add 1½ tablespoons curry powder and 1 teaspoon ginger powder; to keep things very simple, just add some of the spices in my garbanzo spread to Lonnie's Hummus.


WHAT TO DO: In a food processor shred carrots, set aside. Process garlic & onion. Set aside. Blend the garbanzo beans with the lemon juice. The consistency should be like thick peanut butter. Sauté sesame seeds in the olive oil until almost brown. Add onions to pan—cook until soft. Add herbs at the last minute. Add the onion mixture to the garbanzo beans and blend it. Add half the shredded carrots and chopped parsley to the garbanzo beans. Blend until smooth. Add the remaining carrots and parsley. Mix by hand, so that the vegetables remain chunky.
Optional: Add 2 diced red peppers to make a colorful, and delightfully textured sandwich spread
· It's best to use a food processor. To save time, you could also use LONNIE'S recipe above and just add some of my spices or some of the vegetables.
· Makes about 6 cups. Lasts in refrigerator about 2 weeks. Can be frozen.
· Great for sandwiches or as a dip.
__________________________________________

Bob's Tofu Paté
12.3 ounces of low fat firm tofu
¼ cup Fat-free Miracle Whip® or mayonnaise
½ tsp. onion powder
½ tsp. garlic powder
½ tsp. curry powder
½ tsp. nutritional yeast (adds smoky flavor)
2 dashes black pepper
Salt, to taste
2 tsp. prepared mustard
2 T. jalapeño peppers
2 T. each of green & red pepper
2 T. raw onion
¼ cup celery, diced
2 T. fresh parsley

WHAT TO DO: Use a food processor or blender to mix. Add tofu and all other ingredients to processor. Process as little as possible to blend up all ingredients, but still leave mixture "chunky".
__________________________________________

Bob's Fresh Cranberry Relish
1 twelve-oz. bag of cranberries, frozen and thawed (Can freeze lots of bags when they are on sale, but defrost before using). You get a more intense cranberry flavor when you freeze and then thaw the berries.
2-3 oranges wash and scrub skins, cut in chunks Note: use only outer rind from one orange
2 apples, cored, sliced, chunked
1 lime, juiced
1/3 cup sugar, or use other sweetener, to taste

WHAT TO DO: Use a food processor. Wash cranberries, discard any soft or blemished ones. Add apple and orange chunks, sweetener and lime juice. Process as little as possible to keep mixture chunky.
It helps to use a spatula to fold in fruit chunks.
Serving suggestion: This recipe tastes like a cranberry chutney. Put 1/2 cup in plain yogurt, add sweetener, sliced banana and raisins or grapes. A Sumptuous snack! I LOVE this recipe! I buy 18 bags of cranberries (when in season) and freeze them so that I can have this delicious recipe throughout the year.
_________________________________________

MAIN DISHES

<![if !vml]>

<![endif]>
Lonnie's Teriyaki Tofu
1 pound of light silken tofu, extra firm
2 Tablespoon soy sauce
1 clove garlic
1 teaspoon fresh grated ginger (not powdered)
2 drops of sesame oil

WHAT TO DO: Remove tofu from box and slice crosswise into ¼ inch slices and lay in flat pan. Mix remaining ingredients and pour over tofu slices. Turn carefully and marinate 1 to 24 hours (the longer the time, the more intense the flavor). Carefully remove slices from marinade and place on oiled cookie sheet. Bake 30 minutes in 400 degree oven. Serve with rice and steamed broccoli.
83 calories, 13 fat calories per 6 ounces
__________________________________________

Faster Than Take-out Pizza!
WHAT TO DO:
Start with the bread base you like best: focaccia bread split horizontally, refrigerated pizza dough, Boboli®, English muffins, pita bread, French bread, thawed frozen bread dough, or your own pre-prepared pizza dough.

Spread with your favorite low-fat prepared spaghetti sauce.

Top with your favorite vegetables such as sliced mushrooms, peppers, onions, zucchini, olives, artichoke hearts, pineapple tidbits, etc.

Top with low-fat or fat-free mozzarella (Low-fat Mozzarella with Garlic and Herbs is good) and one Tablespoon of Parmesan cheese.
Bake in 400° oven for 15 minutes or until cheese is melted.
Serve with a large salad or vegetable side dish.
About 400 calories, 54 fat calories per 1/4 pizza
__________________________________________

Bob's Eggplant Parmesan
1 med. eggplant, cut "round-ways" into ½ inch slices
¼ pound mushrooms, sliced thin
1 green pepper, diced
1 medium onion, diced
2 cups tomato juice
1 teaspoon garlic powder
1 tablespoon dried basil
1 teaspoon thyme
1 teaspoon dried rosemary
1 teaspoon black pepper
Salt (to taste)
Grated Parmesan cheese, mixture of
fat-free and regular

WHAT TO DO: Arrange the round slices of eggplant in the bottom of an 8" X 17" baking pan. Sprinkle mushrooms, green pepper and onions over each slice. Pour tomato juice over vegetable mixture. Add spices evenly. Sprinkle Parmesan cheese over each until depth of about ¼ inch.
BAKE in 350° oven for 40 minutes (or until cheese turns golden brown). Give thanks and eat. YUM!
__________________________________________

Bob's Ginger Chicken
2 boneless/skinless chicken breasts, sliced thick diagonally
2 tablespoons each: soy sauce and white wine
1 teaspoon lemon or lime juice
2 cloves garlic, crushed, diced
1 tablespoon grated fresh ginger root
1½ tablespoons sugar (or artificial sweetener)

WHAT TO DO: Marinate chicken with other ingredients for ½ hour, then cook chicken in a hot pan until done. Serve with stir-fried vegetables and brown rice. Sumptuous!
BREAKFAST RECIPES
<![if !vml]>
<![endif]>
Bob's Breakfast Apple Fritters
1 apple, peeled and grated, then BLEND IN:
¼ cup non-fat milk
1 egg (or substitute)
1 teaspoon vanilla
1 teaspoon Sugar Twin artificial brown sugar sweetener
3-4 shakes cinnamon and 1 slice whole wheat bread.
WHAT TO DO: Mix grated apple into blended ingredients. Spoon mixture into non-stick skillet and cook until crisp on both sides. ENJOY!
__________________________________________

Bob's Breakfast Cheese Pancakes
¼ cup fat-free milk
1 slice rye bread, broken into pieces
1 tablespoon dehydrated minced onions (or fresh)
¼ cup low-fat, or nonfat cheddar cheese
Salt & pepper (to taste)

WHAT TO DO: Pour milk into blender and add bread and onion. Blend until batter becomes smooth. Pour into a bowl and add cheese. Drop by tablespoonfuls into hot, non-stick frying pan. Turn to cook until brown on both sides. Cheesy good!
__________________________________________


DESSERTS
<![if !vml]>

<![endif]>

Lonnie's Microwave Baked Apple or Pear
1 apple or pear
1 t. sugar
1/16 teaspoon of cinnamon ( a "pinch")

WHAT TO DO: Keeping the apple (or pear) whole, remove the core with a knife or corer. Pare off the top third of the peel. Put the apple (or pear) in an ovenproof custard cup. Mix the cinnamon and sugar and put the mixture in the hole. Cover with plastic wrap and microwave 3 minutes. Let stand several minutes to cool before eating.
Conventional oven option: Add 1 teaspoon of water to the cup, cover with foil and bake 45 minutes at 300 degrees.

125 calories, 5 fat calories per serving
______________________________
The recipes above are used with permission © 2004-2014 Kaiser Permanente Northwest Health Education Services, Cultivating Health™ Weight Management Kit:

Lonnie's Microwave Baked Apple or Pear, Faster Than Take-out Pizza!, Lonnie's Teriyaki Tofu, Pat's Fajita, Pat's Cannelloni, Pat's Cheese Enchilada, Lonnie's Vegetable Burritos, Lonnie's Oriental Burritos, Lonnie's Hummus, Lonnie's Easy Garbanzo Bean Soup, Lonnie's 12-Bean Soup, Lonnie's Baked Acorn Squash with Apples, Lonnie's Fat-free Sweet and Sour Salad Dressing.

Bob's Baked Bananas
6 medium bananas, peeled
FRUIT AND SPICE MIXTURE (Mix together and simmer for 10 minutes before adding as a topping for the bananas) doing this blends the flavors:
1 can light peach slices (15 oz.), cut in chunks, include the juice
¾ cup blueberries (IQF frozen, thawed)
½ cup raspberries (IQF frozen, thawed)
1/3 cup raisins
1½ teaspoon vanilla extract,
1 tablespoon brown sugar
¼ teaspoon ground cardamom
1/2 teaspoon ground cinnamon
1 dash ground nutmeg.
IQF is Individually quick frozen


WHAT TO DO: Put peeled bananas in baking pan. Use a large spoon to top bananas with fruit and spice mixture. Cover with aluminum foil. Bake in a 425º oven for 35 minutes. This is a delightful, floral-tasting dessert!
Optional topping of vanilla yogurt and chopped walnuts or pecans may be added. ENJOY! This recipe can easily be multiplied to serve large numbers of people. You can save any leftovers for a special treat for the next day.




Explore The Recipe Resources To Find Lots Of Mouth Fun!

Cookbooks and Healthy Nutrition Guides

The Complete Food And Nutrition Guide, 4th Edition by The American Dietetic Association, Roberta Larson Duyfe, MS, RD, FADA, CFCS, (2002), John Wiley & Sons, Inc. Shares the latest healthy eating guidelines, foods and strategies for your good health, and nutritional advice for every age and stage of life. This is a wonderful and complete guide to healthful eating throughout life. Available in paperback from http://www.amazon.com/American-Dietetic-Association-Complete-Nutrition/dp/0470912073

■

The American Diabetes Association Month of Meals Diabetes Meal Planner. American Diabetes Association, 2010.

■

American Wholefoods Cuisine. Nikki Goldbeck and David Goldbeck, Ceres Press, 2006.

■

The Dash Diet Action Plan. Marla Heller, Amidon Press, 2007.

■

Get Cooking. Mollie Katzen, Harper Studio 2009.
Synopsis
Offers a practical, everyday guide to cooking and eating sensibly that includes information on the major starches and weight control as well as hundreds of recipes and menu plans. From the nationally bestselling author of Jane Brody's Nutrition Book comes "the ultimate, readable, understandable, practical, and useful book on how to live sensibly and well . . . a primer on the new nutrition and weight control" (Craig Claiborne). Contains over 350 recipes. I LOVE IT! It is available new or used at www.amazon.com


Lickety-Split Meals, by Zonya Foco, RD, (2007), ZHI Publishing; www.zonya.com , 1-888-884-LEAN This is an excellent cookbook about how to cook and set up yourself for life-long healthful eating even though your life is rushed.

Keep the Beat: Heart Healthy Recipes from the National Heart, Lung, and Blood Institute: Here's proof that what's good for your heart can be great for your taste buds! As the recipes in this special collection show, you don't have to lose flavor to gain heart health and "keep the beat". Enjoy "Crispy Oven-Fried Chicken," "Red Hot Fusilli," "Crunchy Pumpkin Pie," and "Summer Breezes Smoothie." Contains more than 100 pages of tempting heart healthy, taste-tested recipes sure to please you and your family. Turn your meals from "ho-hum" to "yum-yum" experiences. Keep the Beat: Heart Healthy Recipes from the National Heart, Lung, and Blood Institute. NIH Publication Number 2921. 2003. 145 pages. 6 in. x 9 in. Full color. To order the book, go to the NHLBI Website: http://emall.nhlbihin.net/product2.asp?source=&sku=2921 and you can download the PDF version here: Keep The Beat Delicious Recipes-NHLBI.pdf See "Stay Young at Heart Recipes": http://www.nhlbi.nih.gov/health/public/heart/other/syah/index.htm

Quick & Healthy Recipes and Ideas- Volumes I and II, by Brenda J. Ponichtera, R.D. Filled with lots of ideas about five weekly menus with weekly grocery lists, numerous tips for healthful eating and lifestyle choices, food exchanges for diabetics and weight loss, steps to determine calorie needs and recommended fat, tips to reduce sodium, and more. See Brenda's web site for description and purchase options: http://www.quickandhealthy.net/

The Mom's Guide to Meal Makeovers: Improving the Way Your Family Eats, One Meal at a Time! by Janice Newell Bissex, MS, RD and Liz Weiss, MS, RD. This book is a must for moms (and dads!) who have busy schedules taking their children to sports' practices, music lessons, etc. and have only a small window of time to plan and prepare dinner. A simple 5-step Meal Makeover Plan is given which is practical, novel, and easy to follow. In conjunction with the book, the authors have started the Meal Makeover Mom's Club, a free online community that offers parents a discussion board, customized supermarket shopping list, and lots of time on feeding families, and nutrition news. Check it out at: http://www.mealmakeovermoms.com/

500 Fat-Free Recipes, by Sarah Schlesinger, (1994), Open Door Books, New York www.amazon.com The greatest collections of fat-free recipes ever published. A delicious way of eating all the great foods, all the classic recipes, and hundreds of new ones. When you know you can eat this good, you won't need any other. This is a GREAT book if you find that you are "vegetable and fruit challenged!"

Moosewood Restaurant Low-Fat Favorites, by The Moosewood Collective, (1996), Clarkson Potter Publishers, New York

Preparing Nutritious Meals at Minimal Cost: United States Department of Agriculture Center for Nutrition Policy and Promotion http://www.usda.gov/cnpp/FoodPlans/TFP99/food$pdf.PDF Provides many suggestions, recipes, menus, food lists, resources, and tips for a family of four to live economically that could follow the food stamp program. You can also down load it from this link: Nutritious Meals at Minimal Cost.pdf