What are the Challenges that Derail Your Achieving a Healthier Life...
and How Can You Transform Them?
Why do most people get challenged in their attempts to maintain a healthy life?
Check below for the common reasons. What Are Yours?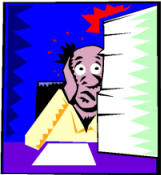 You may find that your life at present is touched by many difficult circumstances that make achieving a healthier life seem impossible. You might feel helpless and hopeless about changing. Is this how you are feeling? I have felt that same way before. Things CAN change for the better.
I encourage you to explore Essential Skills #10-Seeking Support and Counseling. This can help you sort through all that is going on for you, and you can come up some possible options to try out. Taking the time to do this is WORTH its weight in gold!
Check out the Only Self-Care Guide For Mental Health Concerns:
Readers can review 25 mental health conditions and determine the best course for treatment. Examples: anger, phobias, depression, anxiety, burnout, co-dependency, eating disorders, passive/aggressive behaviors, marital/relationship problems, gambling, grief/bereavement, parenting issues, self-esteem, sexual concerns, sleep problems, stress, and many other topics are covered.

Suggestions are given about when to seek emergency care, when to see a physician, when to go to a counselor, and when self-help is appropriate. 7 3/8" x 9". 96 pages COST: $6.49. Item #: 2147. Go to the "products/online store--> Medical Self-Care Guides" http://www.healthylife.com/ Page: http://www.healthylife.com/products.asp?productsID=23
I encourage you to Set your intention: Plant the Garden of Your Life With Seeds of Well-Being as you explore making new life choices that can free the being that lives inside of your own skin from suffering, pain, and distress. Know that you CAN figure it out!
Next consider delving into the sections below. If your reasons for being unsuccessful go beyond the usual "food and physical activity" lifestyle-change suggestions, I encourage you to invest in yourself. Pause. Explore these very common challenges that derail people's healthy living efforts.
Practice self care--to find the answers to the challenges you face!
When life feels "balanced" the urge for chocolate chip cookies and other comfort foods diminishes. So consider exploring...
When you have finally had enough suffering, when you have a passionate desire to change, when you are ready to do some work, this model answers the call. Here you will find fifteen proven methods -- from ancient wisdom and modern science -- designed to help the reader crack open the shell of religion to release its pearls of wisdom, hidden secrets, and soothing healing powers.

Visit Phil Shapiro at: www.philipshapiro.com to explore his book Healing Power.

My goal is to contribute to the healing of individuals and to the light of the world. I am interested in your feedback and comments. You can contact me at pjlpw@comcast.net.

Blessings

Dr. Phil Shapiro

". . .Move within, but donít move the way fear makes you move . . . Today like every other day, we wake up empty and frightened . . .Let the beauty we love be what we do. There are hundreds of ways to kneel and kiss the ground."

~ Rumi